Streamlining driving, walking and logistics in Helsinki's city centre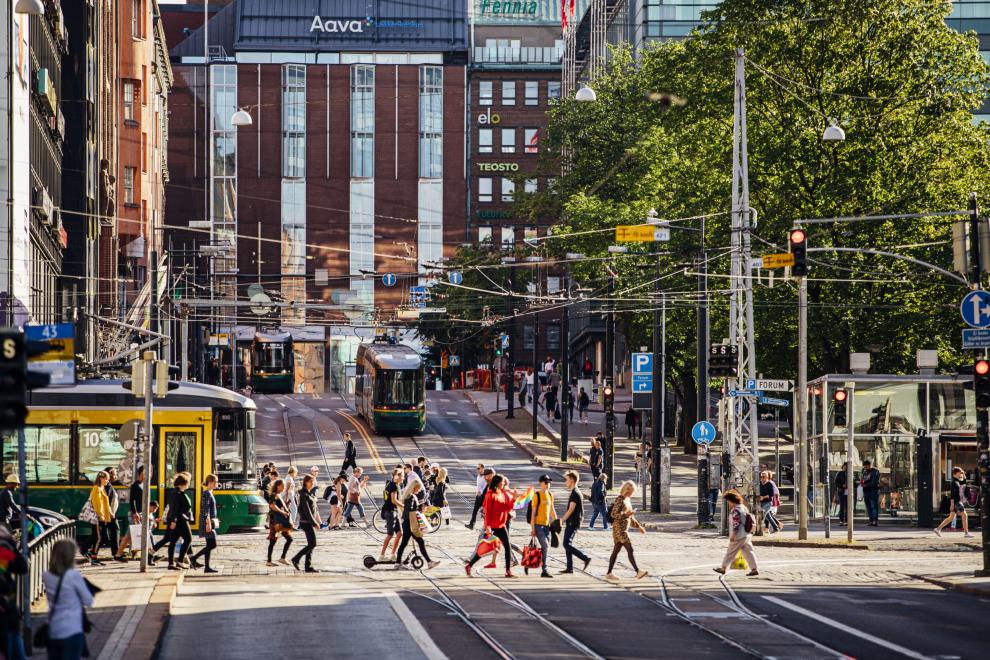 The goal of the assessment
The main focus of the assessment was on whether the accessibility and functionality of the city centre had been improved in terms of walking, driving and logistics in accordance with the strategic objectives. In addition to the City Strategy's policies, the assessment examined land-use and transport activities in the city centre and programmes related to walking, parking and logistics.
Conclusions
The city has carried out or initiated numerous measures for improving the city centre's accessibility and functionality in terms of walking, driving and parking in accordance with the City Strategy and separate programmes. However, no significant impact is evident – at least not yet. The city has promoted some projects to improve vehicle traffic and logistics, such as the Sörnäinen tunnel and the Port Tunnel. The city centre's vitality project and measures for promoting walking have been launched. The assessment found that differences of opinion were holding back development in some areas. They were usually related to how important private car use was to the city centre's vitality and the extent to which the smooth flow of vehicle traffic was prioritised compared with other traffic.
Cooperation is needed between the city and businesses to channel kerbside parking to parking facilities. However, the popularity of contract parking between residents and parking facilities has not increased significantly in recent years. Some measures that the city was responsible for implementing under the 2020 City Logistics Programme have not been carried out due to insufficient resources. There have been efforts to promote connections to the underground service tunnel, but there is no incentive to do so if operators do not think that they need underground service or distribution. The city has spent considerable time preparing to introduce a parking permit for delivery vehicles, but this has not progressed due to data protection issues.
The Audit Committee concludes that
the City Executive Office and the Urban Environment Division should
allocate sufficient resources for the measures for which the city is responsible and that are needed to achieve the objectives of the City Logistics Programme, set indicators and monitor the progress towards the programme's objectives.
initiate measures for promoting the use of the service tunnel by encouraging property owners to connect new properties to it.
increase cooperation with private parking operators to increase contract parking in private parking facilities instead of kerbside parking.
the Urban Environment Division should
resolve the data protection problem with the parking permit for delivery services to make it operational.
Were the contents of this article useful to you?